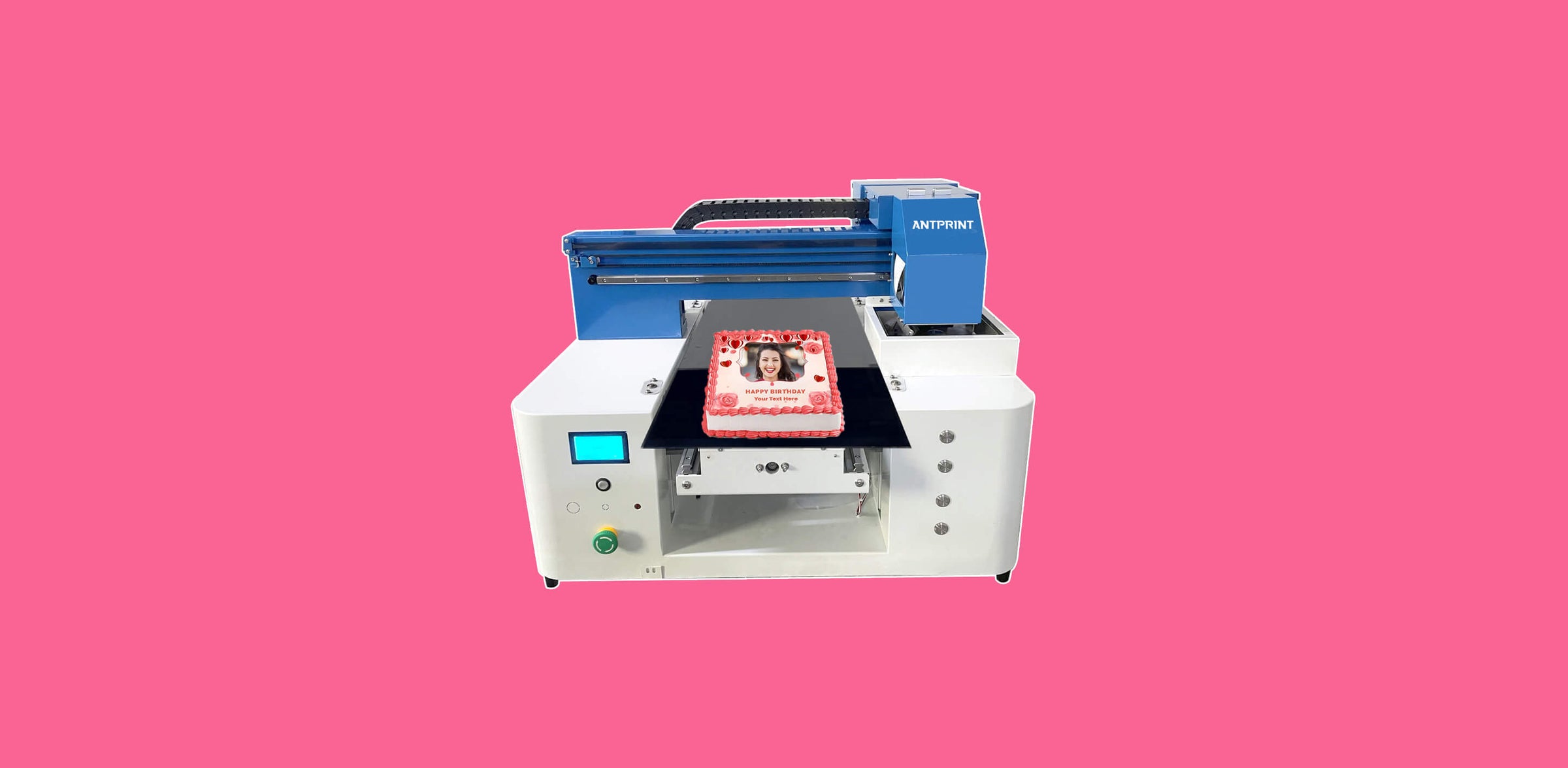 Edible Ink Printer For Cakes Decorations 

Custom oreos cookies Macaron Chocolate Food Printer
Edible Ink Food Printer
Edible ink food printer is a kind of inkjet food printer that work with special Edible ink. It can print images or word on the food surface directly. People always use it for printing on the cake, chocolate, macaron, candy, cookies, marshmallow, biscuit etc.
Food grade edible ink with FDA and MSDS certification. For the special Edible ink, it with 4 color ( CMYK) or  6 color ( CMYK.LC.LM), so the printed images can be vivid and colorful, which can help the business man art his food products by an easy solution!
Printing with Hight resolution. Printer with Epson printer head and self-developed mother board and head board. It always can print with high resolution of 2880*1440dpi.
Easy to custom printing on your food surface. You just edit your image in your computer, open by the professional RIP printing software, and click "print", and then the food printer will work automatically, it is very easy for the operator.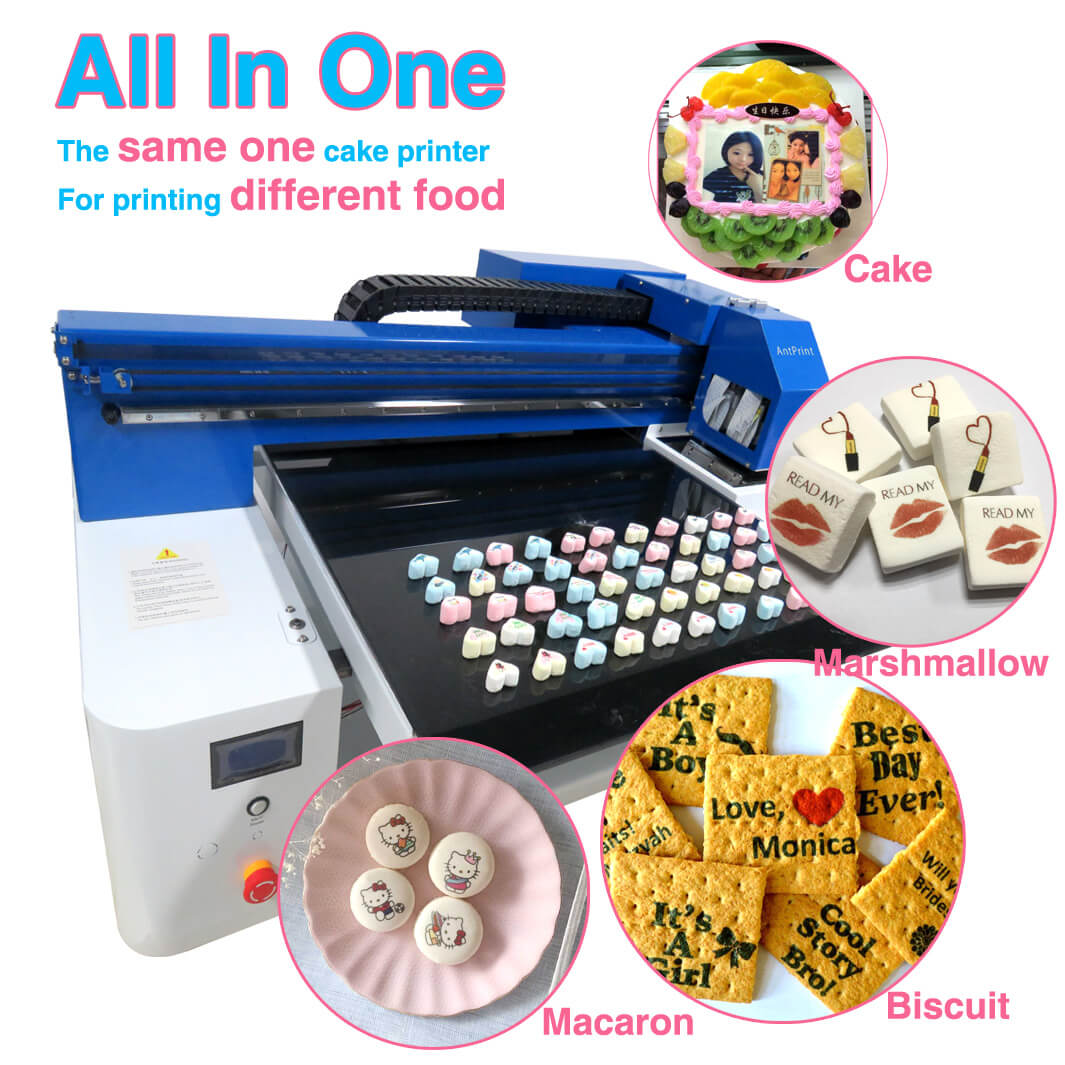 Edible cake printing
Edible cake photo printer that can do the edible cake printing directly, no need any pretreatment, no matter the cakes with which size for printing.A4 size edible printer for cakes printing with max printing format 21*30cm, the max thickness is 12cm. A3 cake printer with max printing format 33*50cm, max printing thickness up to 20cm;A2 edilbe cake prints with large format 60*50cm, max cake printing thickness up to 20cm. There also have other bigger size cakes printer, such as 2.5*1.3meter, 1.6*1.3meter, 60*90cm format etc.
Edible Macaron Printer Machine
Maybe you never thought one printer that can help you custom your macarons, but yes, the edible food printer that can work on the macarons. For example our smallest a4 size macaron food printer that can print about 24 pcs macarons by one time. Until now, there is no too many people to know this way to customs his macarons, if you know this edible macarons printer machine, yes, you care luck and try to catch this good opportunity to develop your macaron printing business item now!
The Best Chocolate Printer
The normal chocolate always lost his market as there is no any attaction! But if you use the chocolate printer customs printing your design on your chocolate, it can help you bring huge value at once!
Think about it. Can a photo of the newlyweds be printed on the chocolate at the wedding? Can a romantic love message be printed on the chocolate? Even simple patterns can bring you unimaginable magical effects and make the entire chocolate look unique! Yes, such a chocolate food printer can quickly help you realize this wonderful business plan!
Edible Ink Printer For Cookies
Maybe your cookies has different shape and size, but that is not a problems. Edibel printer not only can print on the round shape cookies, but also the square cookies. Based on your cookies size and shape, we can help you design the special cookies adapter that help you print several pcs cookies by one time.
Sent Inquiry
Welcome to sent inquiry for the food printer, we will reply you within 1 hour!